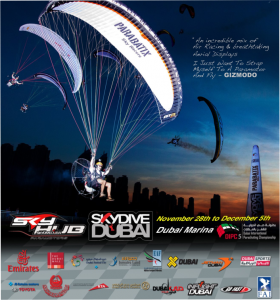 The Parabatix Sky Racers are back in Dubai for the second instalment of our urban air racing show.
28th – 30th November : Qualifying rounds & Air displays
1st – 5th December : Main Race days & Air displays
Entry fee : FREE
Together with our friends at Skydive Dubai & SkyHub Paramotors we bring you the most impressive of aerial skills our sport has to offer.
We will be publish five daily videos during the main race days so keep an eye out for them.
For the latest news and live blog & 'behind the scenes' information check out our Facebook page .