After six intense days of urban sky racing, desert training sessions & scoreboard battling we have our winners!
Parabatix Dubai has been the most impressive paramotor event to date mixing pure precision, low proximity flying in an easy-to-understand 'supercross' style paramotor competition / show with the most talented and professional competition / display pilots in the world!
Check out this excellent teaser of what to expect from the Parabatix media team!


After a brief pause between days 2 & 3 out in the desert to further hone their skills and perform incredible stunts with Vince Reffet of the Soul Flyers and Nasser Al Neyadi of Skydive Dubai, the Parabatix team came back to the city of Dubai to finish what they started!
Kicking off with the Speed Race 2 (SR2) pilots had to come screaming through the start gate downwind while manoeuvring through a double-eight style race course wingtips skimming just centimetres away from the pylons. A truly spectacular sight to see the top three winners of this particular task Alex, Jeremy & Paco carving their 88 turns as tight as possible while shaving milliseconds from their track times.
Dividing up the races with interval shows was Argentinian acrobatic pilot Hernan Pitocco spiced up by dynamic synchronised displays from all the Parabatix sky racers making the crowds roar with excitement and hungry for more sky racing action.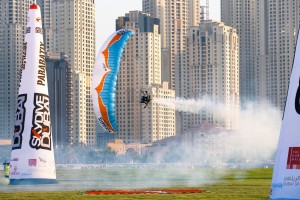 Time for the next Bonus Race in our sky race catalogue (BR1), an ingeniously prepared race that mixes speed, precision and tricky ground obstacles throughout the course. Race director Jerome Pommier set the bar high this time as giant inflatable balls had to be kicked out of their holding zones in mid turn in order to grab the eight-second bonus.
The grand finale, this was the sky race that could change everything on the scoreboard, especially between the top five pilots Javi Geurra, Pavel Bezina, Thomas Migneaux, Paco Guerra & Alex Mateos.
With the tension rising between the pilots spectators eagerly awaited the 3, 2, 1 signal from the sky marshal on the start line projected live for everyone to see via three giant 20ft high screens.  The battle was on with Special Sky Race 2 (SSR2)!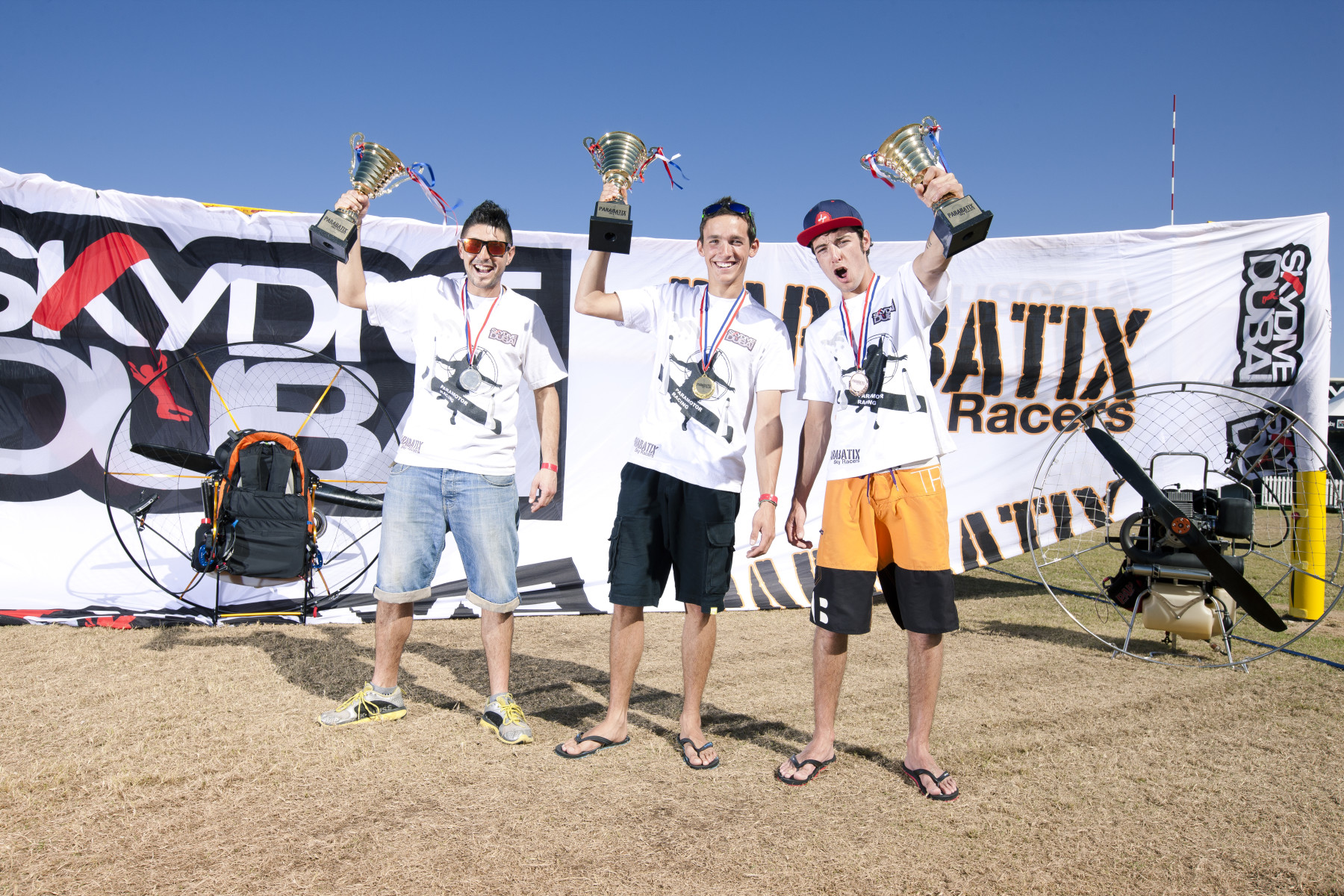 At the drop of the flag, pilots roared into action with smoke on taking off with precision in limited space with their feet jumping into the air as pilots then had to carve a left downwind turn directly into the pylon course. A tough manoeuvre that caught out USA's Othar Lawrence with some unfortunate bad luck as his cage and prop got snagged while he skimmed centimetres above the ground leaving him to deal with a fast downwind landing.
Some incredible skills involved in in the SSR2 as each pilot raced to kick the finish stick. Astonishingly Alex Mateos and Paco Guerra finished first and second with only a second between their times followed swiftly by Thomas Migneaux in 3rd.
Bringing this year's Parabatix Dubai to a spectacular end with an amazing podium line up! (see result below)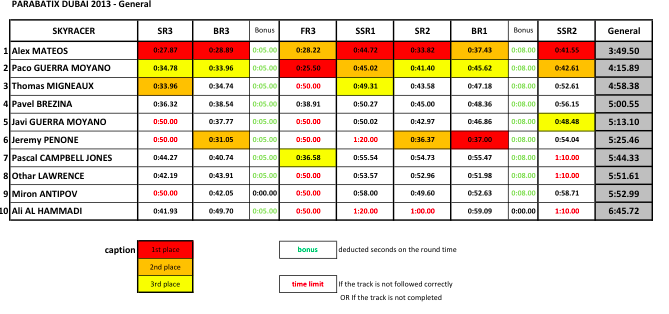 Well done to all the pilots, staff, marshals and support team and everyone who helped make this event happen.
We would also like to thank our host Skydive Dubai for the fantastic location and welcome.