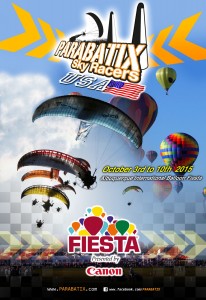 Six Sky Racers battle it out in the centre arena of the largest balloon fiesta in the world. This is the first time Parabatix has come to the USA and what an incredible event is was!
Prepare yourself for the most talented pilots in the world tearing shapes in the sky. This is the most action packed display of Paramotors and Hot air Balloons ever seen!
Why Albuquerque?
Its the aviation hub of Southern New Mexico and has the fastest growing flying
interest in the USA. The world-famous International Albuquerque Balloon Fiesta has become a global icon, helping the city to build its reputation as the world's premiere Balloons Fiesta.
Interest spread from all corners of the planet, we are happy to announce a really diverse team soaring through the skies at this event.
New Mexico is an electrifying stop on the 2015 calendar for Parabatix. Being one of our most iconic events to date, Check out the highlights right here, so you can re-live it all!