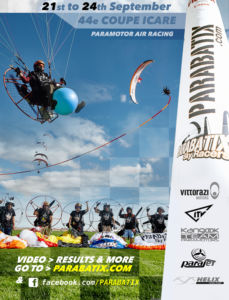 Para to the people!
Once again Parabatix will be bringing aviation even closer to the people at this years 44th Coupe Icare.
A newly conceived race course and synchronised aerial show is what spectators will be able to look forward to.
Top pilots will be battling to race like never before right in front of your eyes. The winners of this years race in France will be guaranteed a place on the World Parabatix Racing series later next year.
Check out this 'teaser' video showing-off the best of Parabatix and what spectators are in for this year.
Be sure to follow us here and on our Facebook page for live updates and videos throughout the weekend.
Entry fee : FREE
Check out the teaser

Split into two spectacular locations right next to each other. Lumbin at the bottom of the mountain and St Hilaire at the top. Check out the map and scheduled times  and how to get there.